Crutches are a very popular piece of medical equipment, generally needed after injury or recovery from surgery.
It helps people to walk without putting their weight on the injured leg or foot.
If you are thinking about where to get crutches free then read below, which you never knew!
Where To Get Free Crutches Easily?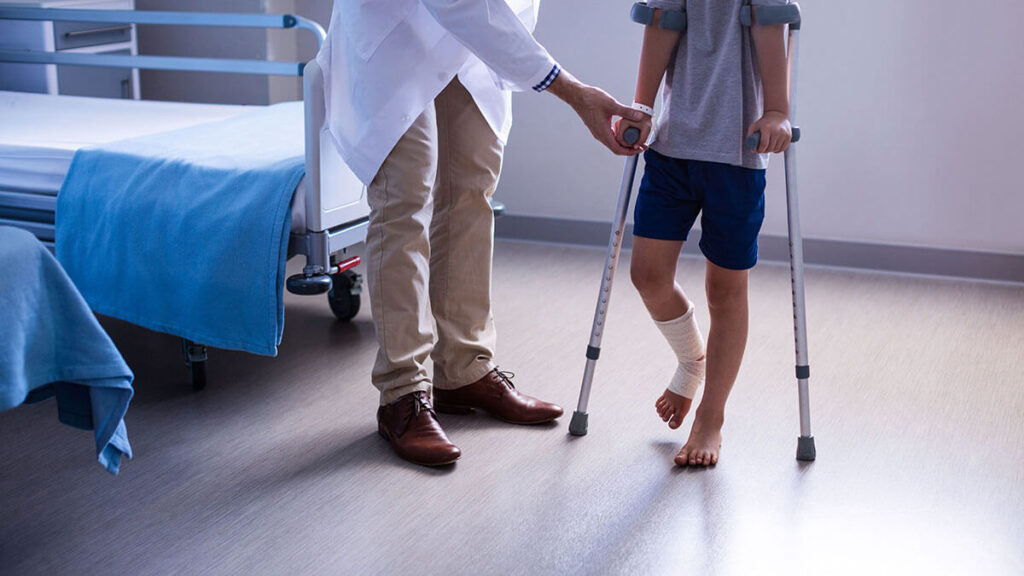 Not all patients need crutches. A doctor or hospital will give you a free crutch by considering your condition.
Usually, they will give you a conventional crutch and it will be free. They will also help to check the functionality of the free crutch with you.
See also: Best Crutches of 2021.
Can You Get Crutches For Free?
Anyone who has an urgent need for crutches can get a crutch for free. Free crutches are very much available at present.
The doctor or hospital gives patients the crutches for free. Sometimes the free crutches are also getting from the market on rent.
Moreover, many people do not need any more of their crutches. They donate their crutches for free.
Rent Crutches
Nowadays many websites are available where they rent different types of crutches. You can visit the website and choose one according to your needs.
There are different crutches at different rates. You can choose according to your budget, your health condition, and the rental rate.
The rent crutches system is very useful for temporary use.
Donate Crutches
Many patients do not need crutches all their lives. You can donate your used free crutch to various charitable organizations after recovering from the injury period.
These donated crutches will help the poor and needy people. There are many poor and less privileged people all over the world who cannot afford crutches.
This will make their life easier.
Can You Bring Crutches Through Medicare?
Medicare Part B (Medical Insurance) helps to cover the price of your doctor's prescription durable medical equipment (DME), including crutches.
Medicare Part B (medical insurance) is a section of Original Medicare, which provides medical services and equipment that are required for medical treatment.
DME has some criteria, such as it must be used in medical or your home and must be long-lasting and have a life expectancy of at least 3 years.
These benefits are provided for anyone with Medicare Part B. Anyone can bring crutches through Medicare.
If your doctor is enrolled in Medicare and the supplier of medical equipment accepts the assignment, you are likely to pay 20% of the amount recommended for Medicare and Part B is deductible.
Once you are enrolled in a Medicare Advantage (MA) program, you will have at least the same coverage as Original Medicare for Part A and Part B.
There are a lot of MA programs. They also offer additional benefits.
To check the Medicare offer, visit: https://www.medicare.org/articles/will-medicare-cover-crutches/
Can You Get Crutches From NHS?
NHS is the National Health Service. It is a system of the United Kingdom and provides public healthcare.
They also provide crutches. So, you can bring crutches from NHS easily if your doctor prescribed them.
The NHS is to introduce a nationwide "crutch amnesty" to tackle the fear that perfectly good medical equipment will ruin homes across the country.
Many hospitals are already recycling equipment, using creative approaches to make sure that spent money is not wasting on medical equipment.
Many patients who have not to need crutches anymore, can return their crutches to NHS so that many other people will also be benefited from them.
Products returned are tested, inspected, and reused or recycled. A survey said that 21% of crutches and 61% of frames were returned in 2017.
This resulted in over 2,000 pieces of equipment being recycled and savings of over £25,000.
It managed to stop 8 tons of waste. The quality of the recycled crutches and other equipment is the same as the original.
So, patients can use them if needed. Check out whether they got the right one from here: https://www.gov.uk/government/news/nhs-to-reuse-more-medical-equipment
Can You Hire Crutches From The Red Cross?
The Red Cross or Red Crescent is an international humanitarian movement that is present in almost every country.
They provide services for any injured people. Crutches can also be hired by the Red Cross.
Donors, local funders, and partners donate their equipment to the Red Cross and the needy people can use them when needed.
The price of renting a crutch varies from location to location and it also depends on the type of crutch.
A national program of the Red Cross is the Health Equipment Loan Program (HELP).
It is a community-based service that is facilitated through support from health authorities, funds from the used equipment, and the contributions of hundreds of volunteers and professional staff.
Red Cross offers mobility equipment as well as crutches on free loan.
If anyone is unable to collect his/her product from the Red Cross office, they will deliver it to his/her home.
Find out your charge upon Red Cross rental here: https://www.redcross.org.gi/how-we-help/mobility-equipment/
Can You Borrow Crutches From Hospital UK?
United Kingdom (UK) has a system National Health Service (NHS) which provides public healthcare.
You can borrow crutches from the NHS rather than hospitals. You can speak to a general practitioner, physiotherapist, or hospital staff for crutches.
You might have to pay a deposit. You can use the hospital's crutches as long as you are admitted to the hospital.
Some hospitals charge extra for crutches. So, it is better to bought or rent a crutch if you need this badly.
Moreover, when you go home, you need to shopping or rent a crutch from somewhere. For this, NHS helps patients by renting crutches.
The patients who have not need crutches anymore give their crutches to the NHS. And the needy people can use them when they needed.
NHS expects that you return the crutches when you are not needed but if you need this for a lifetime you can use this.
These returned crutches are being reused.
Check out the rules about crutches from here: https://www.nhs.uk/conditions/social-care-and-support-guide/care-services-equipment-and-care-homes/walking-aids-wheelchairs-and-mobility-scooters/
Conclusion
Crutch may be the most hated device that you may not want to use in your life.
Unfortunately, if you are a victim of a leg injury or undergo surgery, you must use the crutches during your rest period.
We think you get to know where to get crutches free.
Once you got the crutches you must follow the instructions to handle a crutch.